NDR Exchange and Mart - Cars for Sale
Important Note:
Although the register takes care in maintaining these lists, their accuracy may be prejudiced by the failure of those listed to provide updates regarding their current status.





John Law : Davrian Mk3 - jontylizzieandelise@live.co.uk
I have owned the car for more years than I care to mention . It was last MOTed in September '78 and it is registered in the log book as a Davrian,first registered in August '70 as MEX 877J. It has an 875cc Imp engine installed (condition unknown ) and it sits on Minilite wheels. Also included is a spare engine (reputed to be 998cc) which turns over freely. (September 2017)

I have now lost my storage for this car (and others)so I intend to sell them all ,it was taken off the road with the best or intentions but unfortunately stayed there.
It I would prefer to sell this car to someone who wants it before I put it up for sale to the public on an auction site etc etc

could you please advise .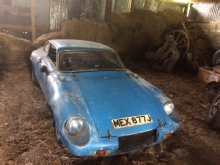 NDR1 Site generated using SERIF WebPlus X7
©John E.F.Rawlins (New Davrian Register) 2017